04. 06. 2021
Although today beer is often perceived as "manly" drink, and for many (men) is drinking beer almost sacred standard of manhood, in our country is traditionally high popularity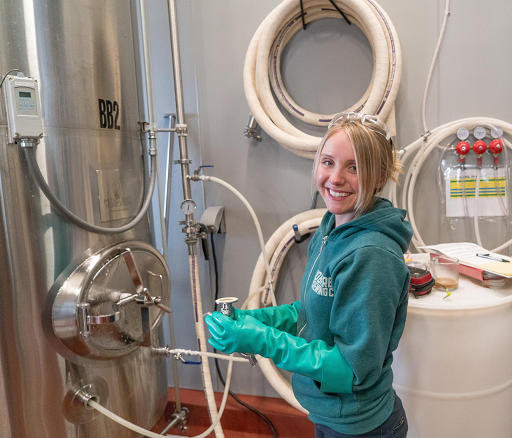 and consumption of beer as well in women as the rise of the beer culture, which in addition to traditional Pilsner-type lagers also found a whole variety of lesser-known beer specialties and beer-based beverages on store shelves and pubs and taps in restaurants, which could generally taste more to women, it can be expected that the popularity of beer for the gentle gender will grow. Women are also a very important target group for breweries from a marketing point of view, especially in the advertising of beer-based drinks and various beer mixes.
We know that many women like beer, but what about the position of women in brewing? Do women also participate in the production of beer? This craft has a subliminal code that, like drinking beer, its production is a sovereignly masculine affair. However, this is not entirely true at present, and in the past this statement did not apply at all. In the Middle Ages and early modern times in Western and Central Europe, there is historical evidence that unmarried women and widows were able to run their own businesses or even, in certain cases, to pursue a trade.
The widow of a master brewery could sometimes take over his business after the death of her husband and continue his craft and her new husband could more easily reach a master's position, which was no longer easy in the guild system of the late Middle Ages and early modern times. Ther is also evidence of the inheritance of the daughter's craft after the father. On the one hand, women brewing beer were stopped by witchcraft processes, which often concerned breweries, which, thanks to self-employed business, enjoyed greater independence, became a thorn in the side of society, and later in modern times also technological progress, which made brewing a field education that women simply did not reach and their activities in breweries thus shrunk to possible ancillary work.
At present, women are again working in the brewing industry relatively routinely, in all positions, including the position of brew-master. Perhaps the most famous brewer in our country is Nataša Rousková from the Zubr brewery in Přerov, who has held her position since 1998, but has de facto dedicated her entire professional life to brewing. And she is not alone, for example Karolína Fialová, the brewer of the craft brewery Raven, also brews beer according to her own recipe. We can also find women in influential managerial positions in multinational brewing concerns, but most importantly, above all we can meet them nicely for a beer in a pub or bar and enjoy it together with them.