INOX

Processing electric steam generator
10. 06. 2019
INOX Processing - Milan Svoboda has developed and incorporated into its production program full stainless steel electric steam generators. As supplier of complete brewing technologies, we were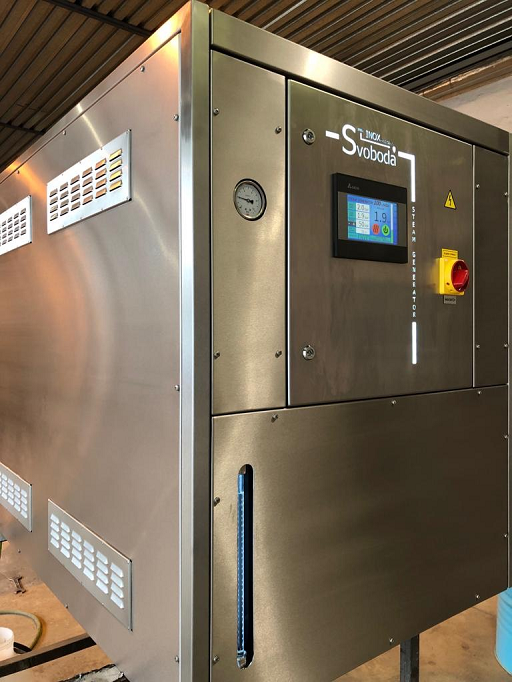 not satisfied with the market offer, which was offering either a very expensive devices or a generator not entirely suitable for food industry conditions. In view of this situation, we have decided to develop a high-performance, user-friendly, all-stainless steel generator, including all-stainless steel pump and complete interior fittings. Our generators are equipped with automatic software, which enables easy pressure adjustment, automatic reporting of desalinization needs of the generator, which takes place in fully automatic operation and automatic control of the heating elements and their wear. We supply ESGs in performance 15, 50, 100 and 200 kW. The maximum working pressure is 6.0 Bar.
Main benefits of Svoboda ESG:

- All-stainless steel generator AISI 304.
- Software controlled pressure regulation.
- Automatic blowdown signalling.
- Waste water cooler for automatic desalination plant.
- The most powerful equipment in the range of up to 200 kW.
- Working pressure up to 6.0 Bar.
- Pressure control possible from 0 to 6.0 Bar on PLC panel.
- Power consumption control on the display.
- Consumption monitoring possible from initial installation and every power-up.
- If the steam generator is not used for 100% efficient switching of heating elements.
- Equipment suitable for humid environments.
- Possibility to regulate generator output within 6 power levels on PLC panel.
- Demineralized water buffer tank integrated inside the machine.
- Automatic control of demineralized water in the water tank.
- Integrated steam tank with condensate drain.
- Made in the Czech Republic with CE certification.